Service
Air Conditioning Repair: Fast, Reliable, and Efficient
This summer season has taught us to appreciate the cooling we have in our homes and how uncomfortable it can be without it. Cooling your home uses more energy and costs more money than any other system in your home -- typically making up about 29% of your utility bill.
Service Overview: Summertime can be unbearable with a malfunctioning air conditioner, and The Service Cart understands your need for a comfortable living environment. Our professional and well-trained technicians offer fast and reliable air conditioning repair services to residential homeowners in Arlington, Fairfax, Loudoun, Prince William, Stafford, and Alexandria counties. Whether your AC is making strange noises, freezing up, not cooling properly, or not running at all, we've got you covered.
Key Benefits
Fast and Reliable Technicians: Our team of certified and experienced technicians is dedicated to providing quick and efficient solutions to your AC problems. We are prepared to troubleshoot and fix any air conditioning issues to ensure your home remains cool and comfortable.
Competitive Pricing: We offer affordable services without compromising on the quality of our work. Our transparent pricing ensures a hassle-free experience with no hidden fees.
Customer-Centric Service: We prioritize your needs and satisfaction, and we work diligently to find the best solution for your air conditioning problem. Our technicians will explain the issues and discuss the most cost-effective repair options available.
Flexible Scheduling: We understand that your time is valuable. That's why we offer flexible scheduling options, including weekends and evening appointments, to best accommodate your busy lifestyle.
Case Studies and Success Stories
Loudoun County: Our team provided timely assistance to a family whose AC unit stopped working on a hot summer day. We diagnosed a malfunctioning fan motor and replaced it efficiently, bringing their home back to a comfortable temperature within hours.
Prince William County: We helped a homeowner who had been enduring high energy bills due to an inefficient air conditioning system. Our technicians installed a more energy-efficient AC unit, resulting in reduced monthly energy bills and a more environmentally friendly home.
Service Locations: Residential homeowners in Arlington, Fairfax, Loudoun, Prince William, Stafford, and Alexandria counties.
Get A Quote For Our Services
Don't let a faulty air conditioner ruin your summer! Ensure a cool, comfortable home with The Service Cart – the most reliable AC repair services in Arlington, Fairfax, Loudoun, Prince William, Stafford, and Alexandria counties. Get a free quote today and experience our exceptional service for yourself.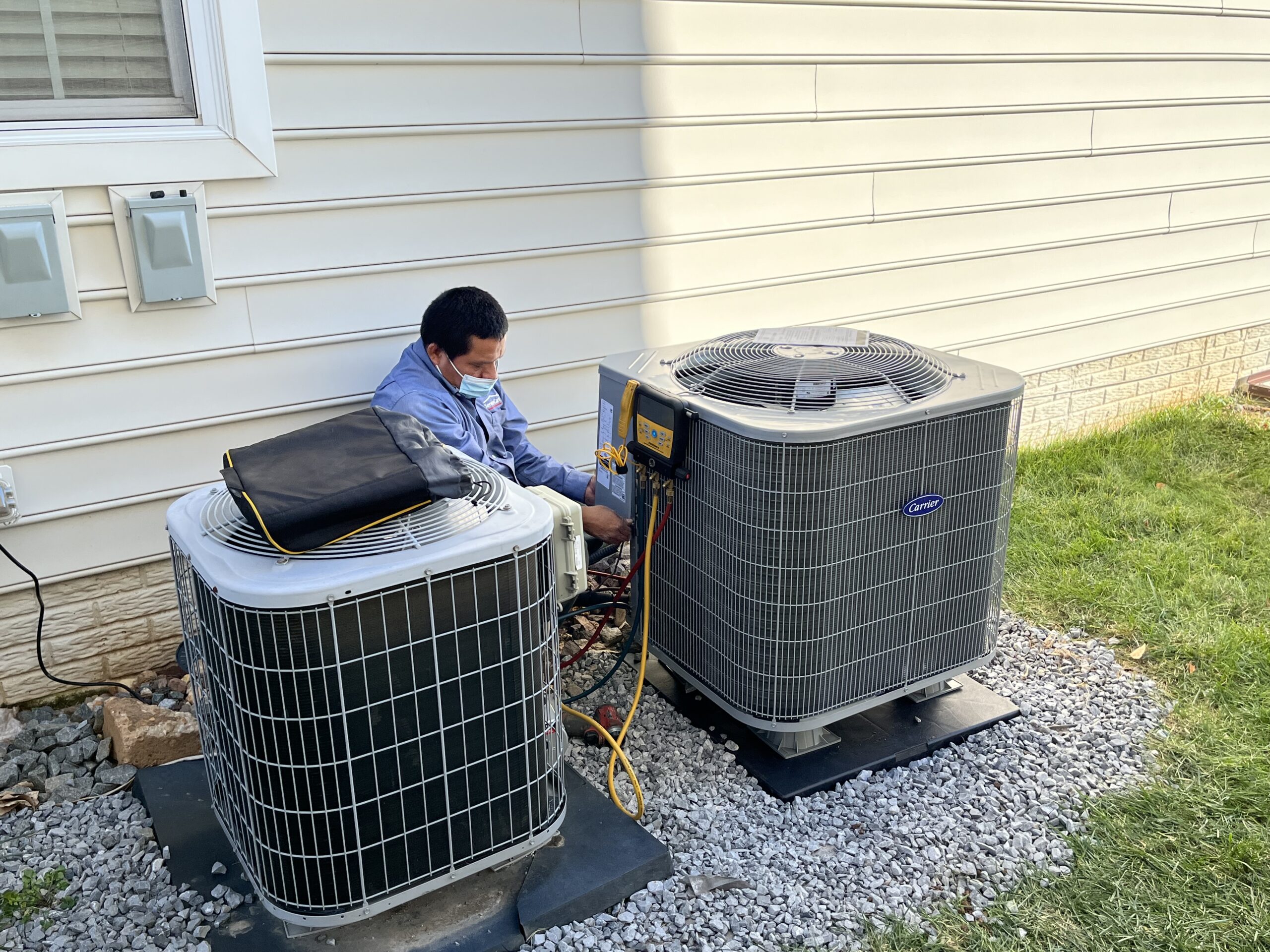 What are the most common problems with an AC Unit?
Air conditioners can be incredibly helpful during the summer months, but unfortunately, they can also be prone to problems. The most common issues with AC units include a lack of cool air, strange noises or smells coming from the unit, inadequate air flow, and water leaking from the unit.
A lack of cool air is often caused by a clogged filter, dirty condenser coils, low refrigerant levels, or a malfunctioning fan or compressor. If you suspect the lack of cool air is due to any of these issues, it's best to contact an air conditioner repair professional for assistance.
Strange noises are often caused by faulty fan motors or loose screws and bolts inside the unit. A technician can inspect the unit and determine what is causing the strange noise.
If you smell something unpleasant coming from your air conditioner, it could be due to a refrigerant leak, mold growth, or a blocked drain line. A professional can assess the issue and repair it accordingly.
How fast can we fix your AC Unit?
Air conditioner repair is essential for keeping your unit running in top condition. If you experience any problems with your air conditioner, it is important to call a professional service technician as soon as possible. The earlier the repair is addressed, the more likely you are to prevent further damage and extend the life of your air conditioning system. We are available 24/7 at your assistance.